AUDIO ADVICE IS TULSA'S MOST EXPERIENCED HOME AUDIO VIDEO EXPERT.  YOUR CHOICE FOR FAMILY MEDIA ROOMS
We custom design and install audio and video equipment to turn your family room into an experience that will impress.  Our family media rooms are designed with audio-video systems that will blow you away!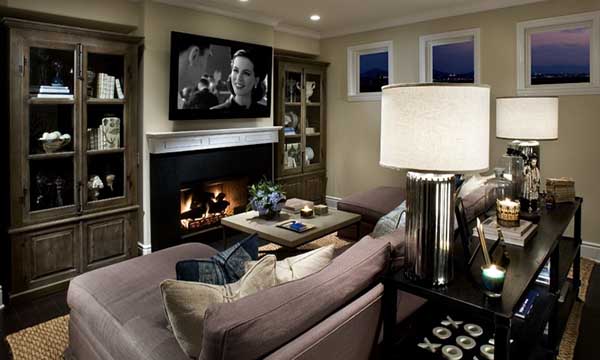 Imagine a room with a medium sized flat panel TV for casual daytime viewing. When evening movie time arrives, one simple button push on your remote control causes sleek, motorized blackout shades to descend as your lights dim. Your theater screen quietly lowers from its ceiling hiding place at the same time. The screen is filled with bright, crystal clear images from your hidden projector, as music from the soundtrack envelops you, creating a complete motion picture experience. The Integrated Audio Solutions design team can help you create this ultimate media room experience in your home and help make your other home entertainment dreams come true!
Audio Advice is dedicated to providing superior customer service in all our services that we perform.  We have a passion for excellence, this is at the heart of our commitment. We use advanced technology and quality products that always offers a positive car care experience. Many drivers have trusted Audio Advice for years to keep their vehicles looking and sounding amazing.
We work with you to build the Ultimate Media Room
In many homes, the family room serves as the media room. The focal point in many family rooms is a fireplace in the middle of a wall with either blank wall space or cabinets flanking the fireplace. Placing a flat screen TV over the fireplace mantle is a very popular design option. This can be great, if (and this is a big if) you can position seats far enough away so you don't feel like you're looking at the ceiling to see the TV.
Speaker Placement Options
If you get one thing right, make sure to get the best center channel speaker you can afford and position it properly. All the dialogue in a movie comes out of the center channel speaker and if you can't understand the dialogue, you can't follow the plot! Ideally, your center channel should be located directly above or below the TV. If you decide to place your TV above a mantle, you can put the center channel speaker over it to get the screen a bit lower. Some center channels can be customized to match the width of your TV to create a complementary look. Integrated Audio Solutions has a wide selection of center channel speakers for every design consideration.
Follow this general rule for the best placement of your left and right speakers: create a 45 to 60-degree angle between the speakers and your main seating position. Each room is different, of course, and our trained staff can help you plot the best angle for you.
Types of Speakers
Speaker possibilities may be a dipole, bipole, or directional depending on your room and your seating. If you are creating a media room from scratch or have easy ceiling access, there are many ceiling mount speakers that can be angled toward the listening position. If properly planned, these can be very inconspicuous while not sacrificing audio quality.
In situations where you absolutely have no room for a speaker anywhere other than at the TV, something you may consider is a speaker bar, with multiple speakers in one compact cabinet.
Subwoofer Placement
Your subwoofer (the speaker providing deep bass effects) can sometimes be hidden in a cabinet. Two things you should remember are: the worst spot for a subwoofer is in the middle of your room, and the best place is close to a corner. Again, we can help you with placement options.
Acoustics
A typical family room usually has adequate acoustic properties. Window treatments are a plus, as are plants, furniture, rugs, bookcases full of books, wall hangings, or anything else that breaks up reflected sound. An example of a challenging room is one with very high ceilings and lots of sheetrock walls that reflect sound quite a bit, making it very difficult to understand movie dialogue tracks. When Integrated Audio Solutions calibrates a room like this, we make adjustments to provide the best possible dialogue reproduction. If you deal with this kind of room, consider adding enough furniture and fabric to absorb sound reflections and keeping the center channel height close to your seated ear level.
Controlling Everything
If no one knows how to turn the system on and select his or her options, it's obvious that enjoyment will drop! A well-planned and programmed remote control make all of the difference. Reliable system controls are available so you can conceal all your components and perfectly transmit signals to them. Integrated Audio Solutions offers a wide range of control options that are dependable and easy to use.
Surround Speaker Placement
Surround speakers can be positioned on side walls or the rear wall. In media rooms, location usually depends on architectural elements of the room such as windows and doorways. In an existing home, wiring for wall-mounted speakers is typically much less time to consume and invasive than for ceiling speakers. Sketch out your room for us and we can advise you on your best surround speaker options.
Ventilation
In many rooms, existing cabinets can be adapted to house components. However, it's critical for your components' life expectancy that they have adequate ventilation. Your amplifier or receiver will generate heat. The cable box, satellite box, or video game system will also radiate huge amounts of heat. Drilling holes for passive ventilation are usually not enough, so Integrated Audio Solutions typically installs a ventilation fan in the cabinet to exhaust hot air. A remote mounted, thermostat controlled fan is even better. We can mount one of these fans in your crawl space so you never hear the fan noise!
Sunlight Effect
If you plan to enjoy your media room during the day for more than casual viewing, then consider how sunlight streaming through windows may shine on your TV. Sunlight glare can wash out a picture. It's very easy to fix this problem with curtains, window treatments, or some impressively quiet and elegant motorized shades.
We will guide you through the process of making the right choices based on your budget and imagination.
Contact Us for

Questions

or a Free Consultation
To discuss Audio and Visual Equipment or Simply Schedule to experience our products first hand.  Contact us today!


(918)664-1933


Info@audioadvicetulsa.com



Audio Advice Tulsa
3164 South Mingo Road
Tulsa, OK  74146
All it takes is an email or a phone call!  We can schedule a time with one of our experts to listen to your ideas. We can provide you feedback and make a plan to get you what you want!