AUDIO ADVICE DESIGNS AND INSTALLS CUSTOM MOBILE VIDEO SYSTEMS FOR YOUR MOBILE ENTERTAINMENT
Tired of trying to figure out how to keep the kids (little and big) occupied when you're out driving?  We have the answer with our mobile Video Systems.  Whether you're looking for overhead monitors, headrest video or custom applications, Car-Fi has the just the right.  Rear Seat Entertainment system to keep the gang in the back happy on the road!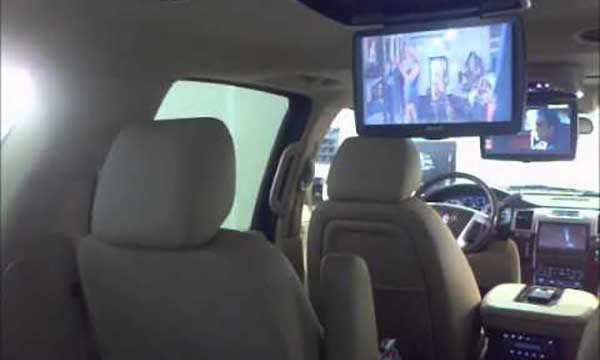 If you own a ride with a 3rd seat option or just want a bigger screen, overhead monitors are very popular. Screen sizes from a neat 9″ up to a whopping 23″ are available. And our installation techs are experts at making your overhead monitor look like it came from the factory when they're done. You can even put A two in many vans and SUV/CUVs for double the fun!
Overhead monitor systems are available with built-in DVD players. You can also use an in-dash DVD receiver as a media source as all of our monitors have multiple AV inputs. Many have USB and HDMI inputs. The HDMI input allows you to stream HD content from your smartphone or tablet connected via an HDMI cord. Some of our overhead monitors have optional adapters available so you'll be able to stream video content wirelessly from your smartphone or tablet.
For the ultimate theater experience, we've installed both headrest and overhead monitors in many a vehicle. Popcorn is optional!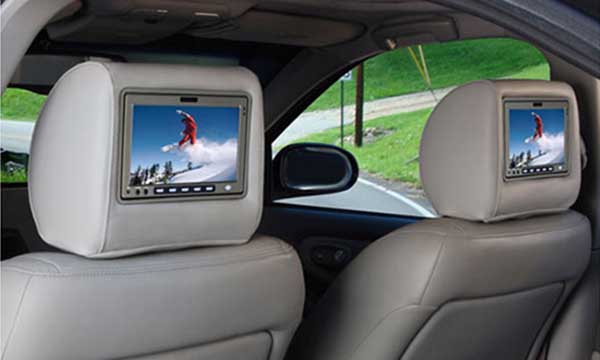 For those of you who want to maintain the original look of the vehicle, we sell and install both universal and factory-matched headrest monitors with screens up to 9″ available.
Headrest monitors usually have DVD players and wireless headphone transmitters built in. The wireless IR transmitters send sound to the viewer's headphones so the people up front won't have to listen to what's being watched. The headrests also usually have FM transmitters built in so the can send the audio through the vehicle's speakers.
Some systems have just one DVD drive for both monitors, while some have separate players in each headrest. This allows the back seat passengers the option of watching two separate videos. Many of these systems have USB and SD inputs for more media source options.
Backup Assistance Systems – Rear-view cameras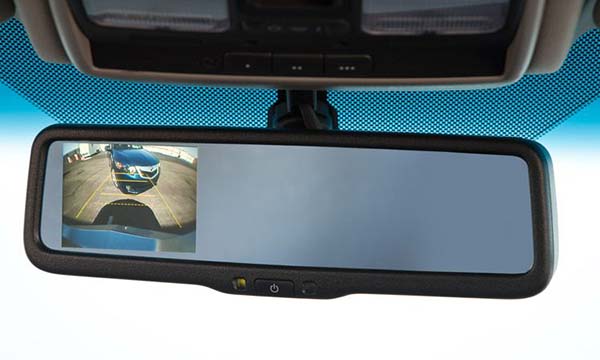 Avoid possible insurance expense and Increase safety for you and for others by adding a backup assistance system to your vehicle. With the addition of a rear-view camera, you can see what's going on behind you before you back up. The camera can be viewed through your factory radio (with screen), an after-market DVD receiver, a rear-view mirror or a small stand-alone monitor.
We have a number of different styles of backup cameras available to fit your application. These cameras are fairly small and unobtrusive when mounted, so they don't take away from the overall appearance of your ride. These are also quite popular with our customers that own RVs and buses or pull a trailer occasionally.
We strive to develop long-term relationships with customers in and outside of the Tulsa area.  We provide the best customer service and the most appropriate solutions for your auto care needs. In addition, we always go the extra step and answer any questions and explain our work to you so you feel comfortable every step of the way.
Come by and visit with our experienced Car Audio technicians who know what your desires are as to features, sound, and more.  We will create a complete custom sound system which will blow you away!!
We will guide you through the process of making the right choices based on your budget and imagination.
Contact Us for Questions or a Free Consultation
To discuss Audio and Visual Equipment or Simply Schedule to experience our products first hand.  Contact us today!


(918)664-1933


Info@audioadvicetulsa.com



Audio Advice Tulsa
3164 South Mingo Road
Tulsa, OK  74146
All it takes is an email or a phone call!  We can schedule a time with one of our experts to listen to your ideas. We can provide you feedback and make a plan to get you what you want!